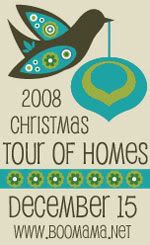 Funny things happen when you schedule a
Gingerbread Party that no one can come to
- your decorations get put up well before Christmas Day! Accordingly, you are done decorating in time to participate in Boo Mama's famous Christmas Tour of Homes. Woo Hoo!!
Dining room doorway
This little guy sits on the landing of our "grand staircase"
Ignore the pink, theater carpet - it will soon (hopefully) meet it's demise!

Santa pics of the boys from itty bitty until now
The stockings were hung by the piano with care . . .
The little, wall hanging Christmas tree. Just decorated with simple green, red & white lights.
The Wall Hanging Section
A Santa my sister-in-law made us years ago. She is a quilter-extraordinaire!
Snowman courtesy of Colton.
A Santa quilted wall hanging my mom made. It's so cool. She is dying right now because I didn't iron it before I hung it up. Sorry, mom!
Another mom original. This one is my favorite.
Apparently, I've got a bit of an addiction!
This is the kid's nativity. They pick the backdrop and arrange the figures. I try really hard not to re-arrange them when they're done. It was a cheapie, because I figured it would end up broken, but this is it's 5th year, going strong. We've come a long way from the first year, being set up in one big, long, very straight line!
A simple, rustic nativity. I think the antique radio actually makes a pretty good backdrop!
Overlooked by our Little Drummer Boy doll - a present from Grandmother to Chance to celebrate his favorite Christmas song.


I love Christmas!